Carpet Flooring in Indianapolis, IN
Update the worn and outdated carpet flooring in your home with the impressive and affordable options at our well-stocked store. Visit our showroom in Indianapolis, IN, and experience the difference that new carpeting can make in any room. Choose high-quality, low-cost carpet from our expansive inventory here at Jack Laurie Home Floor Designs. You are sure to find the carpet installation that best suits your needs in looks, performance, and price. With so many styles, textures, and colors to choose from, our carpet specialists are happy to help you every step of the way - from selection to installation. Rely on us to ensure you find the carpet flooring that will fit your style and lifestyle as well.
The sales associates at our carpet outlet are far more knowledgeable than those at other area carpet stores. We take the time to listen to your needs, so we understand which type of carpet and flooring is perfect for your household. With major brand names like Resista, Tigressa, Innovia, and Home Craft, you are sure to be completely confident in your flooring purchase.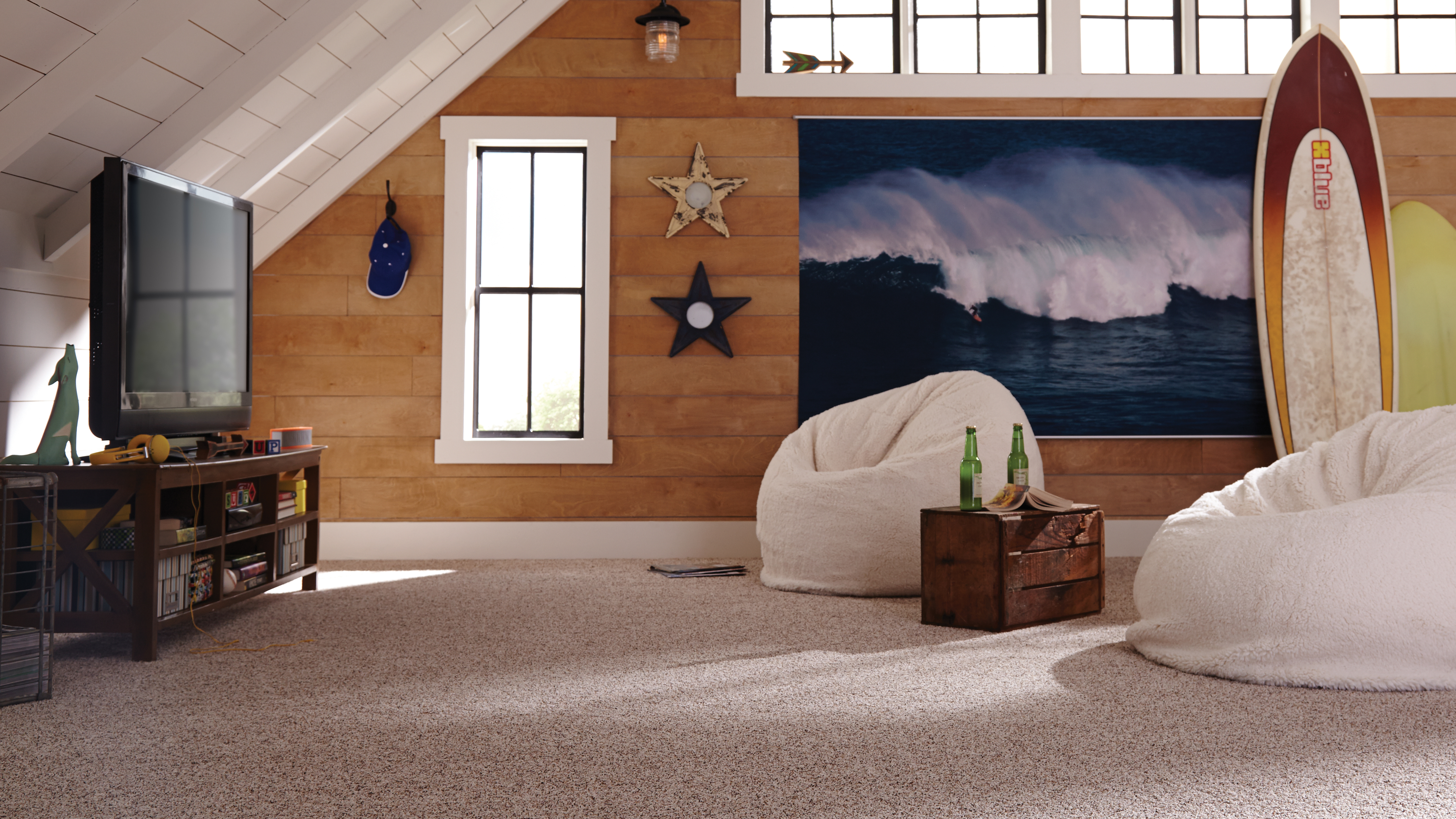 Our Diverse Carpet Selection
We know that finding the best carpet for your home is important. Whether you are looking to install new carpeting in one room, a small area, or even a whole floor of your home, our team of associates and professional installers have you covered. Carpets are a low-maintenance flooring solution with abundant design potential.
Carpet is a very versatile flooring that will help you achieve your dream design in your home. Whether you prefer the stylish and textured look of Frieze or the casual appearance of Berber, our team can help you make the perfect choice for your home. We also offer selections of carpets that will not only transform your home but will also add surfaces that are both non-slip and comfortable, making them perfect for your family. Your carpet's durability and performance can be affected by factors including fiber type, pile height, face weight, gauge, twist level, tuft bind, density, and stitch rate. Due to this, we advise consulting our expert team members when picking out your new carpet. Both our showroom and online store offer multiple styles of carpeting and our team can help you make the perfect choice for your home. Learn more about the different carpeting types we offer:
Berber Carpet
Berber carpets offer a unique style that will make a statement in your home. This type of carpet is soft to the touch and cushiony underfoot. Berber can be found in a variety of pile heights and it can also be constructed as a multi-level loop or level-loop carpet. The natural strength and ability to hide soil in high-traffic areas make Berber carpets one of the most popular and versatile carpeting items on the market today.
Frieze Carpet
Look no further than Frieze carpets if you are in search of a type of carpet that is soft and plush. Frieze carpets are recognized for being silky smooth to the touch and for being resilient against stains and dirt. With its knotted appearance, this type of carpeting can bring a great texture into your space.
Loop & Cut-Loop Carpets
Loop carpeting is made out of uncut looped fibers. It offers a level surface that is typically woven or tufted. Cut-loop carpeting is made of fibers that are straight and that have been cut. This design gives cut-loop carpeting a snag-free consistency that is great for homes with pets and children. Both of these styles will bring a warm and homey atmosphere to your space and can easily hide imprints.
Patterned Carpet
Patterned carpets are great if you're looking to make a bold statement in your home. Patterns on carpets are created using a process similar to printing paper, such as flatbed screen printing and rotary screen printing. If you're looking to add a unique pattern to your room, this is a great option for you.
Saxony Carpet
This luxurious carpeting is known for being resistant to shading, wear, and traffic marks in your home. Saxony carpets are cut-pile carpets that are sure to make your home look opulent.
Maintaining Your New Carpet
Once your new carpet has been installed, get ready for the ease of your carpet's maintenance. Our carpeting selections were created with long-term wear and tear in mind so we made them withstand even the toughest damage and stains. We recommend vacuuming your carpet at least twice per week as well as an annual cleaning so that it will keep its fresh appearance. Consulting your warranty before using a carpet cleaner on your new flooring is a great way to find out which products will keep your carpet like-new, as some chemicals could damage the carpet's fibers.
Carpet Installation Can Make a Difference
Save money without sacrificing the perfect fit with the help of our professional carpet installation team. Although it may seem enticing to save a little money by installing your carpet on your own, the best option is an installation by professionals who are experts at performing quality installs. Without the necessary tools and knowledge of proven techniques, you could end up with costly problems in the future. By trusting us to handle your install, we ensure that the investment that you put into your home is backed by our Ultimate Confidence Guarantee. Our Ultimate Confidence Guarantee is our promise to you and if within 30-days of installation you find yourself dissatisfied with our work, we will happily replace them at no additional cost.
Contact us to learn more about our carpet flooring selections. We provide services to customers located throughout Indianapolis, Carmel, Zionsville, Fishers, Westerfield, IN, as well as the surrounding communities.