Ceramic Tile in Indianapolis, IN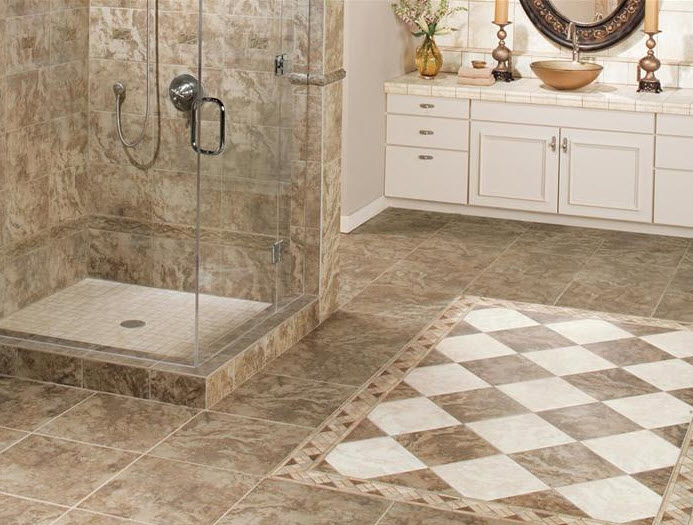 Add distinction to every room in your home with our versatile ceramic tile flooring options. More than just a leading choice for kitchens and bathrooms, any of our modern ceramic flooring styles are perfect in hallways, foyers, and living rooms. Our trendsetting lines of ceramic floor tiles feature colors, finishes, and patterns that stand up to decades of use and complement every decor.
Discover the Ceramic Tile Flooring Advantage
Whatever your desired application may be, our ceramic tile flooring solutions offer a number of advantages that make them a popular choice among homeowners. Fire-baked, glazed, and sealed ceramics are virtually unmatched in their ability to repel standing liquids and resist staining. Ceramic is a longstanding favorite for kitchens and bathrooms for its ability to withstand moisture, but today's tile floors—including woodgrain tile—empower you to enjoy the appearance of natural floors in spaces where traffic and water intrusion prohibit hardwoods, carpets, and porous stone.
Ceramic flooring requires very little maintenance too. With routine sweeping, vacuuming with a brush attachment, or occasional mopping, your floor can remain in showroom condition for many years. Applying a sealant periodically adds another degree of hardiness that keeps your ceramic looking vibrant for a lifetime. Doing so provides noticeable savings over the cost of reconditioning or replacing your entire floor.
A Wide Selection of Ceramic Floor Tiles
When you call our flooring experts or browse our showroom, you will discover a host of ceramic floor tiles in a full array of colors, patterns, and sizes suitable for any room. This seemingly endless selection empowers you to create a design for your new floor that is limited only by your creativity, floor plan, and budget. Choosing ceramic tile gives you the flexibility to explore a variety of layouts, from timeless checkerboard pattern to intricate diagonal patterns featuring woodgrain or subway tiles.
Beyond its beauty and flexibility, ceramic flooring installs simply. Most styles of ceramic are standardized and tested for a uniform fit, which means you are assured clean grout lines and reduced waste due to irregular tiles. Ceramic tile's mesh fiber backing allows it to hold tight to your subfloor under any installation conditions. However, with precision installation from our experienced professionals, your new floor will be a showpiece covered by our Ultimate Guarantee for as long as you own it.
Reap the Rewards of Tile Floor Made of Ceramic
When you understand the benefits of a new tile floor made of ceramic, it becomes clear how rewarding this home improvement can be. Whether you wish to impress guests and neighbors or just spend less time cleaning, ceramic tile is a fantastic choice. In addition, a new ceramic floor is a great way to add thousands of dollars to your home's resale value and appeal to would-be homebuyers' sense of style.

Give your home a stunning makeover with
ceramic tile flooring
styles that range from classic to contemporary. When you choose ceramic for your new tile floors, you can reinvigorate any room in your home for a reasonable cost. In addition to its unique appeal and affordability, ceramic is extremely durable. These combined characteristics ensure that your new tile floor elevates the aesthetic appeal and value of your home.
Contact us today and allow our friendly staff to help you select the ideal ceramic tile flooring for your home. We proudly serve Indianapolis, Carmel, Zionsville, Fishers, Westfield, Indiana, plus the surrounding areas.