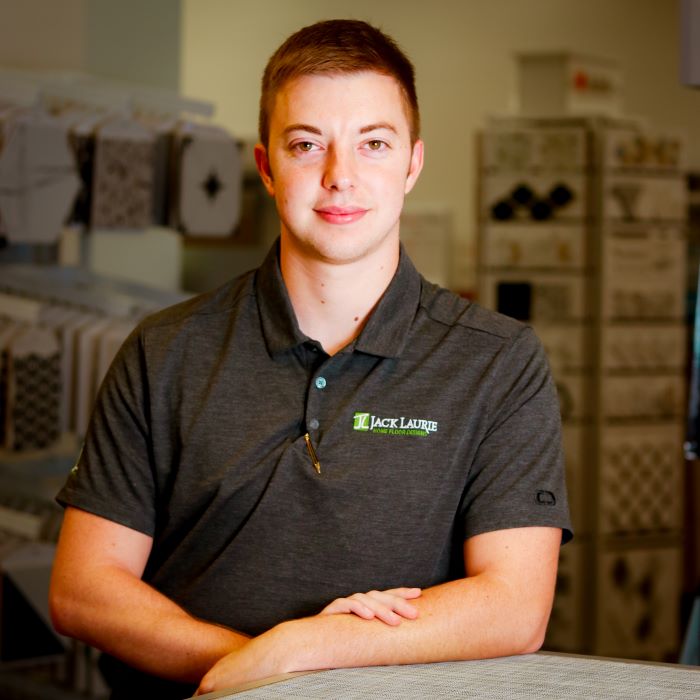 Layne Pass, Business Development Manager
Jack Laurie Home Floor Design is the PREMIER flooring installer for your custom home build. Building a custom home can be a very rewarding experience. However, it can be overwhelming to decide between the seemingly endless options within each room of the home. From the basement to the attic, and every room in between, careful consideration must be taken with regard to the styles, colors, textures, and functions of every material in the home.
The flooring in each room is one of the most important decisions that will be made. The floors your homeowners walk on are subject to constant wear and tear, and must be resilient and functional while still being beautiful and easy to maintain. From the kitchen and bathroom to the bedrooms and basement, there are thousands of great options.
So how do you choose the right options for your homeowner?
The answer is simple! You let us do that for you. Our goal is to take the guess-work out of it. Our streamlined process was developed to reduce the number of steps to transform an idea or drawing to a finished installation and a happy homeowner. You send us the prints, and we'll take care of the rest.
Our Typical Builder Process
The builder sends a set of prints to our Sales Consultant

Our Sales Consultant begins an immediate review of specifications and budget requirements.

We then provide individual flooring quotes for each type of flooring.

The homeowner and builder review the flooring options and pricing.

The homeowner and builder schedule a selection meeting with our Sales Consultants

Revised pricing sent to builder for approval

Once the final selections are approved, our fulfillment team will coordinate the installations with the builder

Our field supervision team oversee all new construction projects to ensure complete builder and homeowner satisfaction
Special Benefits of joining our Builder Program
High-tech process:

Our Sales Consultants utilize cutting-edge technology and 3D rendering to turn your digital floor plans into detailed pricing for each type of flooring in the home.

Speedy turnaround times:

When you work with us, you can be rest assured that we will work within your time constraints and never slow you down.

First-class design team:

Our certified Interior Designers will work with you and your homeowners to select the colors and styles within your budget.

Huge showrooms:

Homeowners can browse more than 17,000 products in each of our showrooms. We have a huge selection of flooring options including carpet, luxury LVP, LVT, engineered hardwood, ceramic, porcelain, marble and more!

Discounted pricing plans:

Do you have a go-to flooring option that you and your homeowners love? Whether it's a style of hardwood flooring, a brand of shower wall tile, or anything else you can imagine, we can create and customize a program just for you. We have wonderful relationships with all of our suppliers, which allows us to help your homeowners make quick decisions based on competitive pricing and great selection options.

Model home upgrades:

Model homes can be the perfect opportunity to showcase your best products. When you join our builder program, we can offer upgraded options at no cost to you! This adds value to the home is an excellent way to set you apart from the competition.