Durable & Timeless Hardwood Flooring
Hardwood Flooring in Indianapolis, IN
Elegant, classic, and luxurious, our hardwood flooring is the best way to add a touch of sophistication to your home. Here at Jack Laurie Home Floor Designs, we proudly carry a wide variety of both solid and engineered flooring from the most trusted brands and manufacturers. As local flooring experts, we are very knowledgeable about our collection of hardwood styles and materials, and any member of our team will gladly assist you and help you find the ideal style and color for your home.

When you visit our showroom in Indianapolis, IN, you will find a wide variety of hardwood flooring. Whether you are searching for a bright, bold style for your kitchen or a subtle, classic look for your finished basement, you can find all of the options you need when you visit us. We display a large array of hues, wood types, and brands in a spacious modern showroom that allows you to see your future hardwood floors in detail before you ever make a purchase.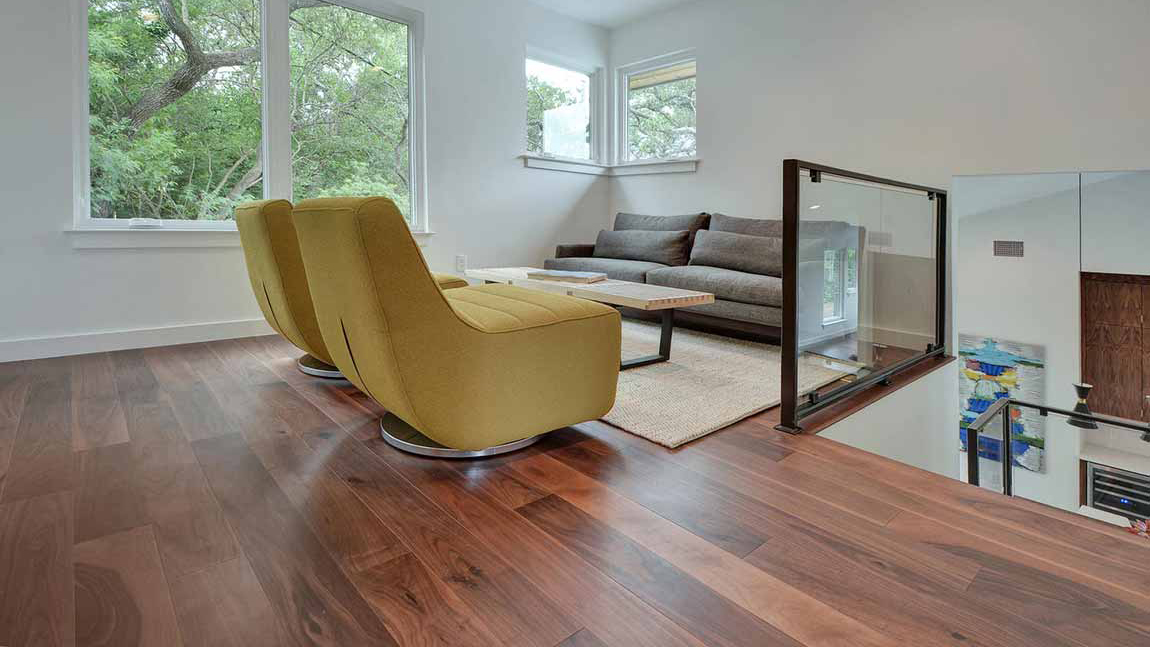 Hardwood Floors That Meet Every Need
Hardwood flooring has unlimited design potential due to its diversity of wood species, staining options, finishes, and textures. Our selection offers hardwood flooring made from wood species such as birch, hickory, ash, oak, mahogany, walnut, maple, acacia, and more. With our hardwood flooring selection, you have limitless options that will meet your every flooring need. With so many options, it may be hard to choose the hardwood flooring that best suits your home and unique needs. Allow one of our dedicated and knowledgeable team members to assist you throughout the purchasing process so that you can find the best floor for your home. We meet with you to discuss your desires, needs, and budget.
Solid Vs. Engineered Hardwood
Solid hardwood isn't your only option when you are choosing a hardwood floor. Not only do we carry traditional solid hardwood floors, but we also have an extensive selection of engineered hardwood flooring. Both are durable and can make beautiful additions to your home.

Classic solid hardwood flooring offers any home a recognizable look that suits any interior design style. They add richness to any room. Solid hardwood is sold as planks that are one genuine piece of hardwood and it has the most natural appearance. Thicker in construction, solid hardwood is a sturdy flooring choice that can be given different finishes such as gloss, matte, or satin. With proper care, solid hardwood can withstand the test of time and can be refinished.
Durable engineered hardwood is the ideal flooring option for homeowners that are looking for luxury style at a budget-friendly price. This type of hardwood flooring is made of several built-in, pressed wood layers added for strength. This unique composition resists moisture and humidity, making it a great foundation for below-grade basements, kitchens, and bathrooms where moisture is common. The surface layer reveals the natural beauty of your chosen wood species.
Maintaining Your Hardwood Floors
After the installation of your new hardwood floors, it's important to give your new flooring the attention they need to maintain their beauty. Sweep and mop your floors regularly to clean up any dirt and debris. While our engineered hardwood alternatives offer some of the best moisture protection, any liquid spills should be cleaned up immediately to prevent seepage through the layers. If you want your hardwood floors to be extra shiny, you can purchase a wood polish that will keep your hardwood looking brand new and can be used every 2-4 months. We are always happy to make a product recommendation that is within the warranty of your new hardwood flooring.
Professional Hardwood Flooring Installation Services
Once you've chosen your perfect hardwood flooring, let us finish the job for you. Our team of in-house technicians performs efficient and accurate installations in any room. Peace of mind means everything when it comes to a home renovation project, and our professional installation gives your just that. Trust our team to deliver the leading standard of service and make your new floors look perfect. We prove our commitment to your satisfaction by backing completed installs with our Ultimate Confidence Guarantee. It is our promise to you that your satisfaction is important to us. If you are not happy with your new hardwood floors, then we'll replace the floors for you at no extra cost.


Contact us to learn more about our hardwood flooring selection. We proudly service Indianapolis, IN, and the surrounding communities.