Hardwood Flooring in Carmel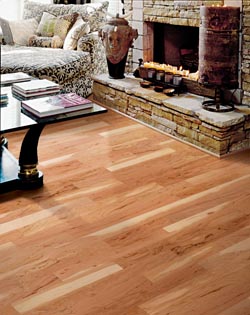 Elegant, classic, and luxurious, our genuine hardwood flooring in Carmel, IN, is the ultimate way to add a touch of sophistication to your home. We proudly carry a wide variety of both solid and engineered hardwood flooring from today's most trusted brands. As local flooring experts, we are extremely knowledgeable about our collection of hardwood styles and materials, and any member of our team will gladly work with you to help find the ideal style and color for your home.
Whether you are searching for a bright, bold style for your kitchen or a subtle, classic look for your finished basement, you can find all of the options you need when you visit Jack Laurie Home Floor Designs. We display a vast array of hues, wood types, and brands in a spacious modern showroom that allows you to see your future hardwood floors in detail before you ever make a purchase.
Why Choose Wood?
Aside from its cultural position as one of the most famous and coveted surface options for any home, wood comes with a wide range of benefits that make it the right fit for almost any aesthetic. From smooth, glossy, and luxurious to textured, rustic, and modern, it effortlessly pulls off the looks you love with quality that few other materials can match. Create the perfect ambiance with our authentically crafted products.
We'll help you bring your boldest design ideas to life with the expertise of our qualified team. From product comparisons to hardwood flooring installation, our professionals guide you through each step and offer the support you need to make your project a success. They can even explain subtle differences in the appearance and performance of different species, such as:
Pecan
Maple
Oak
Beech
Walnut
Ash
Cherry
Bamboo
Cork


Choosing Your Style
With our insight, you can get the wood variant that's right for your needs. Whether you need the charm and solid strength of traditionally milled planks or the purpose-built power of engineered hardwood, you can find it in our showroom. No matter your needs, we do everything in our power to deliver a look that lasts and satisfies your style requirements.
Want the look of hardwood flooring, but need to work within a budget? No problem. We can help you compare alternatives like luxury vinyl and decide what's right for your space--and your property's long-term value. Share your project's details with our team and let us handle the rest.

Contact us today for more information about our natural hardwood flooring. We proudly serve Carmel, IN, and the surrounding areas.