Waterproof Flooring in Indianapolis, IN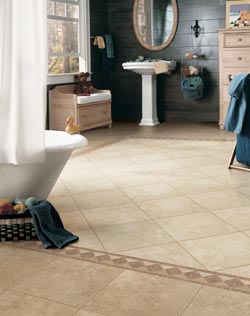 Dealing with water messes in your home can be a frustrating and expensive process. Water is more than an inconvenience – it's a safety hazard that can damage your home's structure over the course of time. However, with a waterproof floor, it's easy to stop moisture from harming your loved one or your home's value. Visit our showroom to explore waterproof flooring in Indianapolis, IN, including vinyl and carpeting.
Don't settle for dull, lifeless floors that get the job done. Our showroom's waterproof floors come in many distinctive colors; waterproof luxury vinyl flooring, especially, is a dynamic choice that imitates the appearance of many popular "natural" flooring materials. Best of all, each is prepared to stand up to the test of time, especially in rooms with high foot traffic, such as:
Kitchen flooring
Bathroom flooring
Basements flooring
Mudroom flooring
Upgrade to Waterproof Vinyl Flooring
There are many reasons to choose waterproof vinyl for your home. However, one of the most common is luxury vinyl's unique ability to imitate the appearance of popular natural materials, such as stone. Many of our clients like the look of stone; however, for added longevity, softness, and waterproofing, they opt for waterproof vinyl. Not only that, waterproof vinyl floors are far most cost-effective, as well longer-lasting.


We Even Carry Waterproof Carpet
Carpeting is one of the most common flooring materials found in homes throughout the world. However, unlike tile and vinyl, most carpeting products don't offer the waterproof properties many families need for their households. But did you know that you can find waterproof carpet at your local flooring showroom? Visit us today to explore the latest revolution in soft, yet moisture-resistant carpeting.
Accidents happen, and when they do, it helps to know that you don't have to worry about your home's subflooring being damaged by moisture. A waterproof carpet floor offers complete freedom from stress, as it stops spills from penetrating your floor's many layers. Just soak up spills with a towel and rest easy knowing mold and mildew aren't even possibilities.



Few flooring products can match waterproof vinyl's long list of benefits. For example, waterproof cores enable these unique products to resist degradation and expansion caused by excess moisture; liquid won't seep through to your home's subflooring and cause mold growth. Cleanup is simple – just give your waterproof vinyl floors a sweeping or a mopping every now and then to keep them looking great.
Contact us today to start exploring our waterproof flooring selection. We serve homeowners in Indianapolis, Indiana, as well as those in Carmel, Fishers, Zionsville, Noblesville, and the surrounding areas.